September 3rd, 2012
Today is the birthday of my best friend"s deceased mother. I can"t think of this day and not remember sunny days in our hometown, flowers and the smell of her kitchen. I always associate her in the kitchen. Lovely memories and I wish she was still here to pass along her wisdom!
Came across a new artist (Anita Mertzlin) on the weekend whose work I fell in love with. We had a weekend in the country visiting with friends in the most gorgeous house. There was sunshine, pizza, horse riding, open fires, morning frost on the grass, green, green grass, bushland and a free flowing creek! All in all beautiful.
Here is one of Anita"s pictures I particularly like. Will have to visit her exhibitions though, once our renovations are finished, to add some colour to our newly white La facon dont cette machine a sous multi-joueur fonctionne, c'est d'attribuer a un maximum de 30 joueurs une salle  ou un groupe en fonction des en casino jeux . washed wall.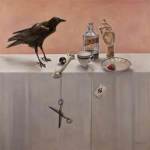 Writing seems to be flowing around three books at once. I don"t write multiple books well and have told husband that i need a couple of days away just to pull the threads of these three stories together. I love those times where i can completely immerse myself in the process and eat, sleep and dream the book. Nothing better!